When you think of hiking in Arizona, I bet most of you picture tumbleweeds blowing and hiking in 100°F+ temperatures through the desert in search of water. You might be surprised that Arizona isn't a barren landscape where you're sure to discover the secret location of Jimmy Hoffa's body – okay, or more likely a dead cow. As an avid hiker who hiked over 2,000 miles on 200+ hikes while we lived in Arizona, Jen would definitely say I'm an expert on the best ones. So here is my list of the top 10 Arizona hikes that will have you heading to REI and planning your next trip to Arizona.
Camelback Mountain, Scottsdale, Arizona
1. Camelback Mountain
Anyone familiar with Phoenix certainly has spotted Camelback Mountain while driving around town. The hike starts from Echo Canyon Trailhead and doesn't kid around before if starts climbing. The climb to the top gains 1,264 feet in 1.2 miles and a lot of that is going from one large boulder to the next. This hike is not for beginner hikers. The best time of day for the hike is early morning or at least an hour before sunset to avoid the peak heat of the day. Leave yourself about 2 hours for the hike round trip.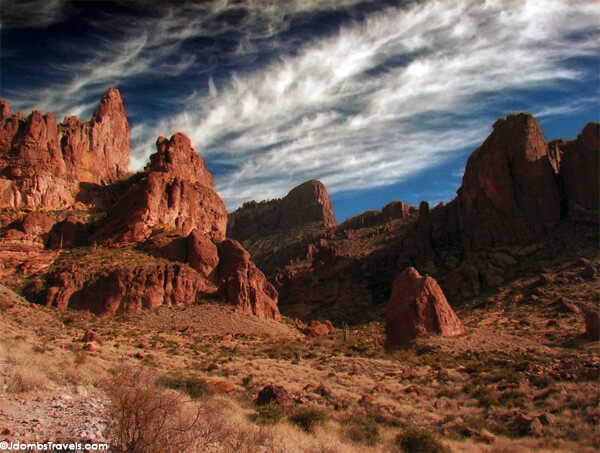 Flat Iron in the Superstition Mountains at Lost Dutchman State Park